The world of a toddler is one of adventure, investigation, and discovery, so with many parents, educational gifts are the preferred holiday fare. With toddler-friendly educational gifts, fun becomes a learning opportunity. From interactive games to hands-on toys, shopping for toddlers has never been more confusing, as there are now over one hundred fifty variations of stacking rings, and countless types of blocks with anything from interlocking bristles to the old standby, Duplo with its oversized Lego shape. You can either add books to the toddler's shelves or venture into the world of educational toys for toddlers that is entertaining and helps with the development of little minds.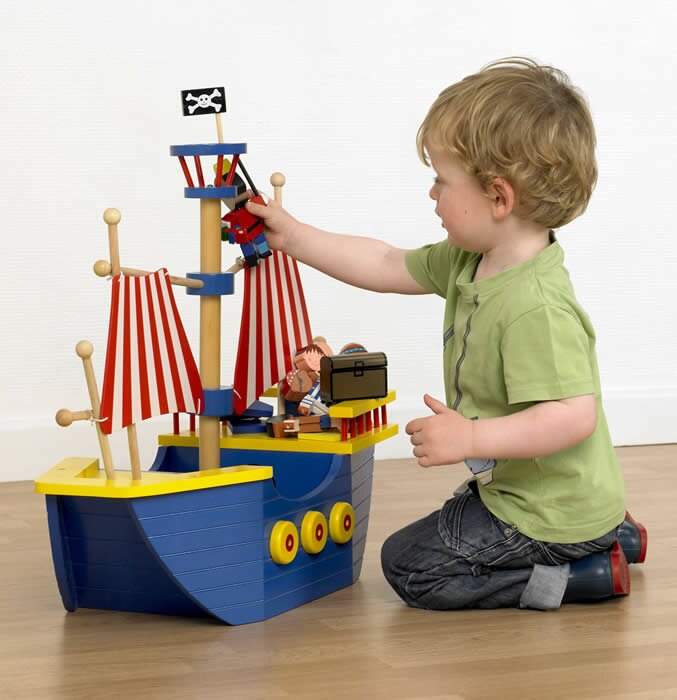 1. Puzzles
Whether you choose a thick wooden puzzle or a fun series of chubby puzzle pieces, puzzles are a great problem-solving exercise. What piece should come next? Where does this part of the picture fit? Will this lion shaped piece fit inside the elephant shape? Puzzles have been around for as long as children have been playing with toys. Be sure to select sturdy puzzles made specifically for toddlers. Avoid painted wood puzzles unless the paint is certified to be lead-free.
2. Fisher Price Little People
Children from every generation since the sixties can recognize these fun figures which debuted in 1959. These little guys have undergone several incarnations over the years. From an armless variety the gen-x'ers played with to the current version complete with outfits and textured hair. Today, there are several varieties of Fisher Price Little People to choose from, each teaching your toddler through both pretend play scenarios and interactive details and sounds. The same figures will be a beloved toy into the preschool and kindergarten years with endless possibilities for creativity.
3. Instruments
Does your toddler enjoy making music? Are your pots and pans getting worn out from the baby's drum session? Consider buying them their first drum. Percussion instruments specially made for babies are constructed to be sturdy and provide extra opportunities than the old sauce pan and wooden spoon tympani.
4. Toy Animals
Nothing says pretend play like your child's own personal zoo or farm. Toy animals are a great way for your child to learn where animals belong. Do you see cows on a farm or are they in a cage at the zoo? Are there really tigers in the woods? Britains ™ Animals are nice and thick, but my personal favorite toy animals are those made by Breyer or Schleich.
5. Shape Sorters
Will this shape fit in this hole? How fast can I put all of these triangle blocks away? Shape sorters are great opportunities for little ones to learn cause and affect as well as problem solving. Be sure to choose a set that stores easily.
6. Oversized Magnetic Alphabet
Toddlers love magnets, and whether they use their alphabet magnets to build castles on the refrigerator or spend time learning how to identify the various letters, most children start their adventures with the alphabet using these time-tested toys. Fun colors and surprising shapes help toddlers grow accustomed to the alphabet, and their interaction with caregivers provides plenty of special time to grow and learn. The letters will be a hit later when preschoolers can experiment with inventive spelling using the same letters they enjoyed as a toddler, or you can purchase a smaller set of letters when your child gets older for even more learning opportunities.
7. Potty Toys
Toys that explain going to the potty like Potty Elmo are great toys for toddlers. Playing with toys that explain the potty process as well as reading informative potty books improves potty readiness and helps a child transition to toilet training.
8. Interactive Tables
The curiosity of "what's up there" encourages toddlers to pull up and experiment with walking. Interesting toys on the tabletop helps keep little ones interested. Some models have interchangeable accessories you can upgrade as your child grows.
9. Ball Toys
Toddlers love the Little Tikes 3-in-one Sports set because it is so much fun. Although the baseball bat and golf set won't be used right away, the colorful balls are just the right size. Toddlers can sit next to the goal and send the basket through the net and down the ramp or walk to the goal or toss the balls from a distance.
10. Rideables
There are a variety of rideable toys out there from the variety that you can first push and then scoot to pedal types. For a toddler, choose simple models like the Push & Ride Racer from Little Tikes and the Stride to Ride walker by Fisher Price. Get more about riding toys for kids at kidsatvsale.com.
The toddler world is one full of mysteries to solve and secrets to discover, playtime and adventure time, as well as investigation of the world around them. Toys should be simple to prevent frustration, sturdy to prevent injury, and safe for children under age three. Be sure to keep track of recalls so that you don't end up buying something unsafe or inappropriate. Toddlers are amazing at holiday time, so full of wonder at the lights, sounds, and smells of celebration. Gifts for toddlers should be as sensory, safe, and fun.